316L Stainless Steel
Limited edition of 60 watches
This unique creation by Louis Moinet enshrines an extraordinary spaceborne adventure. The MARS collection features a genuine Mars meteorite fragment in a capsule at the three o'clock position, amid a dial that faithfully reproduces the surface of Mars, complete with its legendary volcanoes. Collectors who are also astronomy buffs will have no difficulty in recognising Olympus Mons in the centre, Ascraeus Mons between 1 and 2 o'clock, Pavonis Mons between 4 and 5 o'clock, and Arsia Mons between 5 and 6 o'clock.

To create this Martian landscape, the brass dial has undergone expert craftsmanship, with each crater reproduced individually. On the rear side, the oscillating weight is in the same shade as the dial, with a copper-coloured, concentric Clous de Paris stud finish.
Technical Data
High precision automatic movement.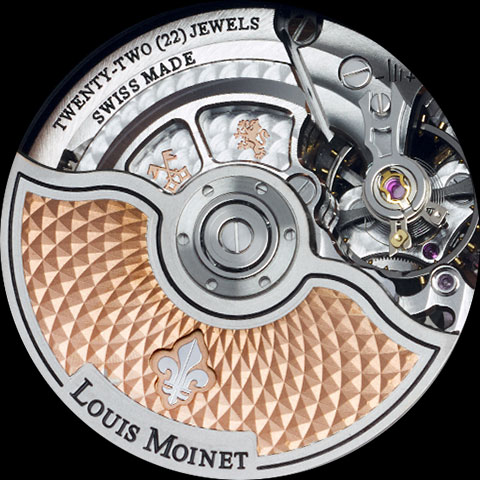 Swiss made