Louis Moinet is today an independent watch brand located in Saint-Blaise, Switzerland, specialising in the creation of high-end timepieces, often featuring exotic materials and innovative technology, underpinned by the philosophy of limited edition mechanical art.
All of Louis Moinet's timepieces are either exclusive limited editions or unique pieces.
Uniqueness, Creative Horology,  Exclusivity and Art & Design are at the heart of Louis Moinet creations.

L'essentiel est de ne pas s'écarter du vrai
Continuing and preserving Louis Moinet's historical heritage, Louis Moinet is proud to count a number of today's celebrities among their prestigious clientele, such as the King of Malaysia, among others.
For Jean-Marie Schaller, CEO and Creative Director, the responsibility of reviving the Louis Moinet name and of heading the brand today is a natural vocation:
"Watchmaking has always been in my blood. Coming from the Jura Mountains, the world surrounding me revolved around one thing: Horology.

I grew up knowing that a watch is no ordinary object: It is a cultural testimony, a legacy inherited from a generation of craftsmen.

In a watch, you see the brain of the engineer, the heart of the designer, the eye of the artist and the hand of the watchmaker.

Indeed, the watch is an objet d'art in harmony with the real values we harbour inside ourselves as human beings.

The master watchmaker Louis Moinet was both an artist and a brilliant horologist. He was one of the most influential watchmakers of all time.

I am proud to revive his heritage of 'mechanical art', blending it with the exciting possibilities offered by today's technology".
Louis Moinet is proud to play its part in the Fondation de la Haute Horlogerie (FHH), and thereby encourage its remarkable initiatives to promote, enhance and maintain worldwide excellence in watchmaking.
More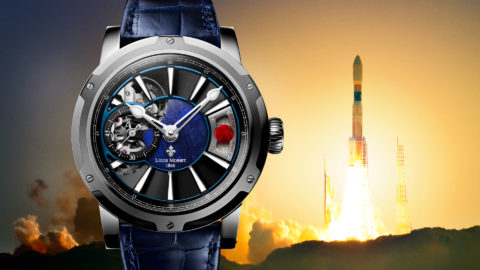 Collection
This limited edition of only twenty watches, distributed only in Japan, is a masterpiece of watchmaking that literally transcends time and space. [...]
Read
Let us tell you a story…
Louis Moinet has received a Merit for Development award from the International Institute for Promotion and Prestige (IIPP), joining previous award-winners including NASA, Porsche and Microsoft.
"

Destiny has given me the privilege of rediscovering the treasures of Louis Moinet and sharing them with the world.

Thanks to our passion, our small watchmaking firm has taken up a noble challenge : elevating this once-famous name to the watchmaking Pantheon.

Our watches are brimming with emotion. If you listen closely, you'll hear Louis Moinet's heart beating in every one of them

"

.
Jean-Marie Schaller
Owner & Creative Director