18K Rose Gold
Limited edition of 12 watches
The new-generation 20-Second Tempograph, TEMPOGRAPH CHROME, includes two major firsts. lt features a completely black, blue, green or purple surround. This extends from the bridges that structure the movement to the flange, itself engraved with a concentric Clou de Paris pattern. The time dial is located at 4 o'clock; it too is decorated with the concentric Clous de Paris pattern, a Louis Moinet hallmark. Fully lacquered in black or blue, it sets off the Louis Moinet's signature "Dewdrop" hands perfectly.
The timepiece also features a new case, borrowed from Louis Moinet's Memoris collection, the first chronograph watch in history. Packed with 52 components, the case has been decreased in size from 46 to 44 millimetres, and then fully reworked to accommodate the 20-Seconds' Tempograph retrograde movement. This is also the first time this prestigious case has been made in steel.
Technical Data
The automatic movement boasts 260 parts – and the "Energie Plus" System.

Automatic, «Energie Plus» System





Hours, Minutes, 20-seconds Retrograde mechanism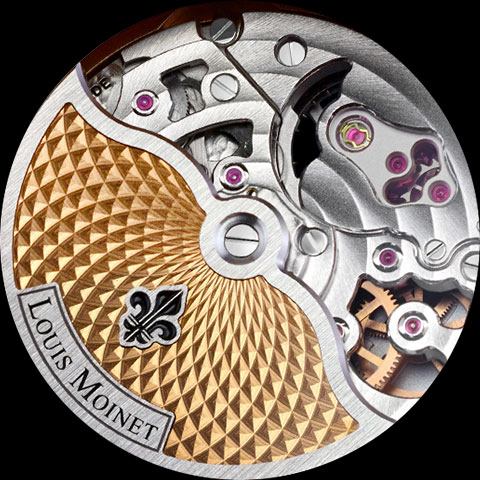 Hours, Minutes, 20-seconds Retrograde mechanism





Swiss made