18K Rose Gold / Hand-engraved
Limited edition of 12 watches
The destinies of Moinet the astronomer and Leonov the cosmonaut have been brought together in SPACEWALKER - an exceptional contemporary creation dedicated to Alexei Leonov, a man who was not only the first to walk freely in space but also the initiator of one of the most symbolic gestures in all history - an interstellar handshake with his NASA counterpart in 1975, at the height of the Cold War, which went on to experience an unexpected thaw.
Louis Moinet's SPACEWALKER commemorates this unparalleled hero. The timepiece features an outsize tourbillon at 12 o'clock, representing Alexei Leonov's spaceship on his Voskhod 2 mission. A diamond revolves around the tourbillon, representing Alexei Leonov himself, floating in space outside his spacecraft. The decision to use a diamond was quite deliberate: "Almaz-2" was Leonov's code nome during the mission (his partner was known as 11 Almaz-1) - and "almaz" is the Russian word for diamond.
Technical Data
Caliber LM48
The world's first "satellite tourbillon®" by Louis Moinet.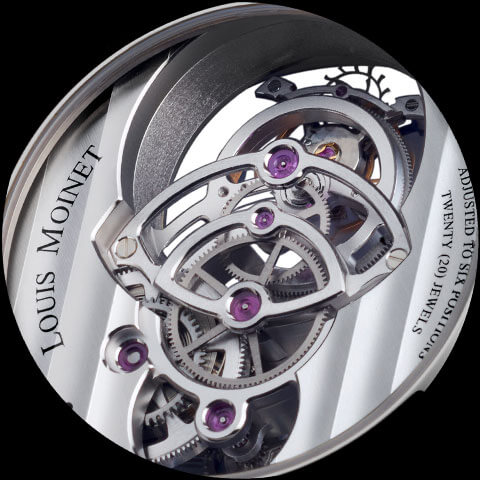 18K Rose Gold / Hand-engraved
Swiss made