18K Rose Gold 5N
Unique timepiece
The dial is a veritable miniature puzzle, designed as a canvas where emblematic animals of the savanna will appear as a central theme. For this unique piece, a micro-painter flawlessly portrayed a lion.
Each SAVANNA TOURBILLON is a work of art that demands the kind of rare and valuable skills mastered only by very few craftsmen.
The eighty-one pieces of the puzzle interlock on four levels. Because of this complexity, the painter must take apart the puzzle and patiently paint the edge of each piece. After that, the pieces must be meticulously reassembled to form a perfectly harmonious puzzle dial. This demands extreme dexterity and displays the sheer talent and exactitude of the artist at work.
Technical Data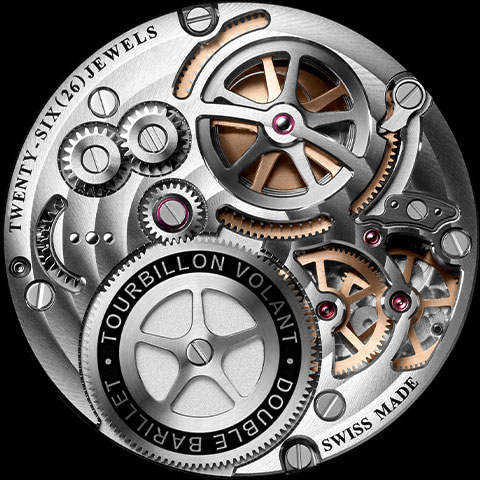 Swiss made
Discover the birth of the Savanna Tourbillon jigsaw puzzle dial through a behind-the-scenes video revealing the exquisite craftsmanship deployed for its creation.
The flying tourbillon of the SAVANNA TOURBILLON is in an off-centre cage at 6 o'clock, where it works its magic making corrections for gravity and fascinating the viewer. It is driven by a hand-wound mechanism equipped with twin barrels installed "volte-face," or head to tail, allowing them to release their energy simultaneously and delivering 96 hours of power reserve.
This outstanding work of art is delicately framed by an 18-carat 5N pink-gold, 40-millimetre case with well-defined, flowing curves. The domed sapphire crystal, a technically challenging element to manufacture, reveals the captivating details of the puzzle and the tourbillon. The open-worked horns perfectly underscore the integration of the bracelet.