Grade 5 titanium
Limited edition of 28 watches
The MIDNIGHT STAR a call to travel
The MIDNIGHT STAR is inspired by travel. As such, it will guide its owner into the universe itself, to faraway, unexplored worlds. This elegant chronograph is the product of extensive aesthetic research and is filled with references to voyaging.
Technical Data
The self-winding mechanical movement beats at 8 vibrations per second and also displays a second time band.






Hours, Minutes, Seconds, Date, Chronograph, Second time zone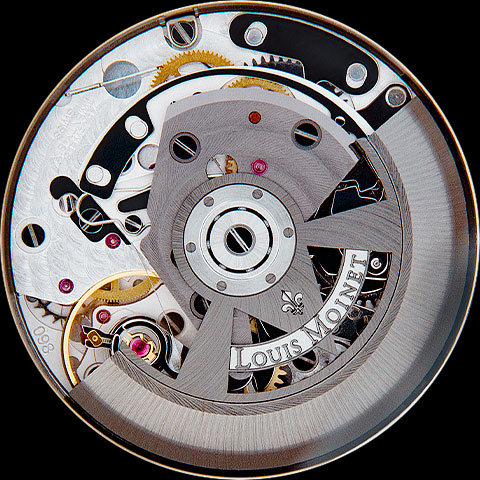 Hours, Minutes, Seconds, Date, Chronograph, Second time zone





Swiss made
Louis Moinet's signature complication the chronograph takes centre stage in this new creation.
Beneath the 30-minute counter, an additional display inspired by the Chadburn engine order telegraph shows the function of the chronograph at a glance. A gentle touch of the mono-pusher will show the start, stop and reset of the measurement mechanism in turn.
The two chronograph counters, located at 6 and 12 o'clock, are both topped with a ruby chaton created using the Verneuil method. The hour counter additionally contains an actual fragment of the rare Armanty meteorite, which features the Widmanstätten pattern. It has been tinted in a captivating blue, giving it remarkable originality. The hue is a veritable accomplishment. It was created by skilled dial craftsmen, who jealously preserve the secret of their trade.
Read more
Designed for daily wear, the Midnight Star comes in a case made from grade 5 titanium, which is particularly light (only 102 grammes), robust, and comfortable on the wrist. The gracefully, curved case has a diameter of 46 mm and incorporates two sapphire crystals with double-sided anti-reflective coating. The date display at 9 o'clock reminds the wearer of the passage of time on Earth. Furthermore, the dial features geometric engravings inspired by the world's latitude and longitude lines.
The Midnight Star is powered by Louis Moinet's LM24 manufacture calibre, which oscillates at a frequency of 28,800 vibrations per hour. The 48-hour power reserve offers enough time to escape and travel through different time zones.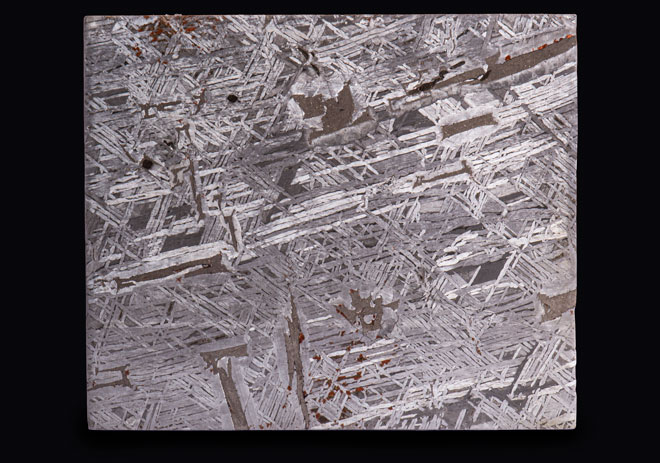 The beautiful and detailed structures of the Armanty fragments contribute to its uniqueness.
The Armanty meteorite is composed of an extra-terrestrial ferro-nickel alloy. It comes from the heart of an asteroid that was originally over one-hundred kilometres in diameter and was located in the asteroid belt between the orbits of Mars and of the giant planet Jupiter. It broke up millions of years ago, and a fragment from its metallic core, with a mass of several hundred tonnes, was thrown into a new orbit that brought it into contact with the Earth, where it landed as a meteorite.