18K White Gold
Limited edition of 28 watches
The original spirit of DERRICK TOURBILLON, redolent of the world of oil, remains intact. The watch's entire movement represents the drilling process. A drive shaft sits on the right of the dial, between 2 and 4 o'clock. This powers a long articulated arm, known as the walking beam, between 10 and 2 o'clock. At its left-hand end is the oblong-shaped 'head', the most striking visual characteristic of a derrick.
The circuit naturally ends with a barrel at 9 o'clock, made from titanium and symbolising successful extraction. lt too is in constant rotation: Louis Moinet has dedicated it to marking the seconds, read off at the bottom of the barrel, on a red engraved seconds track. The rotating barrel is also engraved with Louis Moinet's name, atop its iconic Fleur de Lys motif.
Technical Data
Exclusive tourbillon movement with animated derrick.






Hours, Minutes, Seconds, Automaton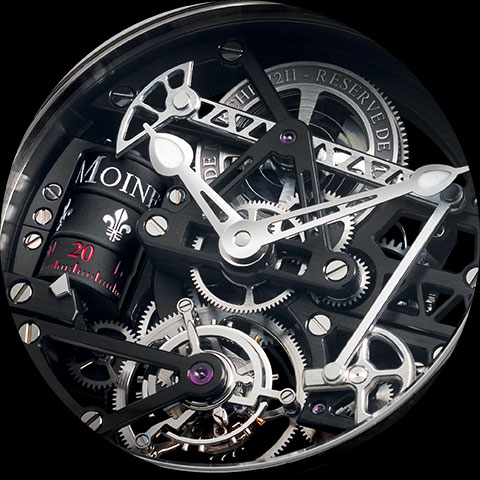 Hours, Minutes, Seconds, Automaton





Swiss made