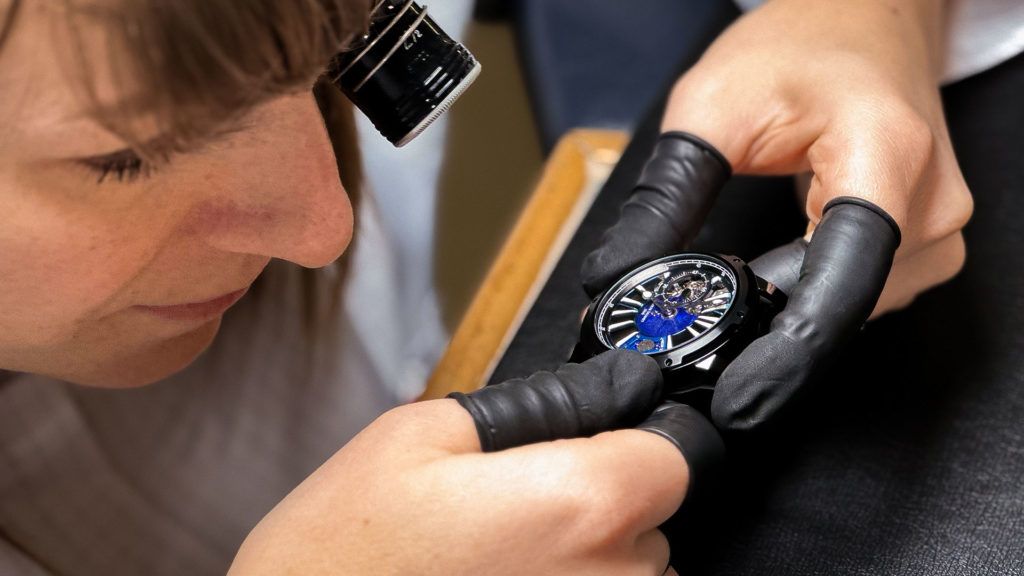 MOON GIBEON: A Work of Art ready to depart our Ateliers
Only twenty watches of the highly coveted MOON GIBEON limited edition were made, and they were sold out within a few hours. In the Louis Moinet workshops, the watchmakers are meticulously assembling the latest MOON GIBEON watches. In a few weeks, they will join their future delighted owners and will be embarking on a vibrant new chapter in their story. It's a tale that begins billions of years ago, when extra-terrestrial rocks journeyed through the interstellar expanse to settle on an exalted space, today's MOON GIBEON dial.
An exclusive fragment of the moon, an incredibly rare and precious material, has been placed on the dial at 3 o'clock. The centre is also adorned with a Gibeon meteorite, which features the Widmanstätten pattern. It has been tinted in a captivating midnight blue, giving it remarkable originality. The hue is a veritable accomplishment. It was created by skilled dial craftsmen, who carefully preserve its secret.
The MOON GIBEON, a rare and unique work of art, a deeply moving tribute to the universe itself.