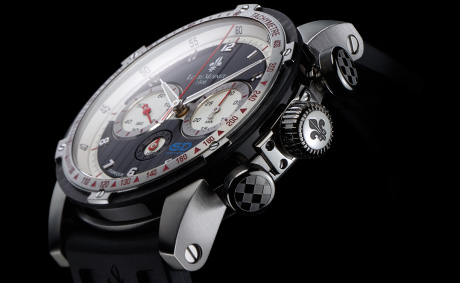 Scott Dixon and Louis Moinet – A winning team!
We are delighted to announce that Scott Dixon, with whom Louis Moinet created the Scott Dixon chronograph, has won his third IndyCar Series Championship after he finished 5th in the last race of the season in Fontana, California on Saturday, October 19th.
Series champion in both 2003 and 2008, Scott heroically clawed back a 49-point deficit in the penultimate race of the season, the Houston Grand Prix double header, to leapfrog his rivals in the standings. For the eighth year in a row, the title went down to the wire, and Scott kept his cool to secure the top-five finish he needed in a nail-biting finale to claim his third championship title.
Scott Dixon: The legend
Scott Dixon, now three-time IZOD IndyCar Series champion, is a veritable speed demon and has not finished outside the top three in the IndyCar Series in the last seven years. In 2008 Scott won the iconic Indianapolis 500. His ratio of wins to career starts is the all-time best of regular drivers in IndyCar racing, a motorsport which is faster than Formula One: IndyCars can reach maximum speeds of about 240mph (388km/h), while an F1 car tops out at around 220mph (340km/h).
Scott Dixon: The timepiece
In every race, Scott wears his 'Scott Dixon' two-pusher, automatic chronograph created in partnership with Louis Moinet.
The 'Scott Dixon' features high-visibility hands; tachymeter scale engraved on steel and carbon fibre bezel; chronograph pushers inset with carbon fibre and decorated with chequered flag motif; and caseback engraving of a winner's wreath evoking Scott's 2008 Indianapolis 500 triumph. Also engraved are '2003' and '2008', the two seasons Scott was the IZOD IndyCar Series Champion.
The red and white on the 'Scott Dixon' dial are neatly evocative of the red and white IndyCars and driver's overalls that Scott has worn with such distinction while representing the Target-Ganassi Racing team over the past decade.
The 'Scott Dixon' is available in a limited edition of 365 pieces, presented in a deluxe case with black, carbon fibre-style interior. It includes a 95 mm x 70 mm reproduction of a watercolour painting by renowned motorsport artist Willy Richard, especially created to pay tribute to Scott's epic performances on the track.
The 'Scott Dixon' forms part of the Louis Moinet Legends collection, featuring timepieces developed in collaboration with an iconic figure who has made an indelible mark by excelling at the highest level in their respective field. After claiming his third IndyCar Series Championship, Scott Dixon more than fits the bill.