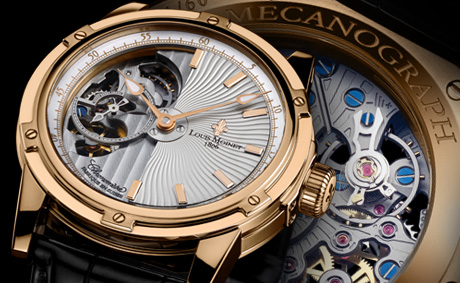 Mecanograph wins 3rd place in 2013 International Chronometry Competition
Louis Moinet is pleased to announce that Mecanograph has claimed third place in the Classic watch category of the 2013 International Chronometry Competition. This result bears testimony to Louis Moinet's success in creating ultra-precise, superlative timepieces capable of resisting a battery of tests without compromise.
The competition is organised biennially by the International Chronometry Competition Association under the supervision of the Musée d'Horlogerie in Le Locle and in partnership with the Swiss Chronometer Control Office (COSC), the Besançon Observatory (France) and the Haute École Arc engineering college in Le Locle (Switzerland).
The Classic category featured 18 watches with a non-tourbillon escapement. Over four months, Mecanograph demonstrated superb reliability and time-keeping performance for three 15-day periods of rigorous timing tests, between which the watches were subjected to magnetic fields, wide temperature variations and repeated shocks.
Click here to see the robot arm applying the shocks :
[youtube id="yBH4TCZ4fbU"]
Claude-Henri Chabloz, president of the International Chronometry Competition, said: "The competition tests are extremely demanding. You have to pass all three 15-day tests just to finish. To use Formula One as an analogy, we can say that the watches have to take part in three grand prix races in a row without a pit stop! Under such conditions, a podium finish is an even more remarkable feat."
Of all the 25 participants in both the classic and tourbillon categories, Louis Moinet was the only independent brand to gain a top-three placing. What is more, the Mecanograph timepiece submitted to the International Chronometry Competition was a standard production piece.
Mecanograph reflects the synergy between an exclusive Louis Moinet chronometer-certified movement and the brand's incomparable aesthetics. Conceived by Louis Moinet and produced by Concepto to Louis Moinet's specifications, Mecanograph's remarkable Calibre LM31 can be appreciated both dial side and through the display back, making this timepiece as spectacularly eye-catching as it is technically innovative.
Mecanograph indicates hours and minutes with signature central Gouttes de Rosée hands, with small seconds also displayed by a Gouttes de Rosée hand on a distinctively shaped subdial at 9 o'clock.
While the right half of the dial boasts stylish and emblematic Côte du Jura guilloche, the left half showcases the pure mechanical beauty of the 182-component, COSC-certified, automatic movement, with the regulator, screwed balance wheel, open gearing and Geneva-wave decorated mainplate all on display.
The display back offers a fresh perspective on the wonderful movement. The bridges, anthracite-treated and enhanced with 26 jewels and blued steel screws, are adorned with Louis Moinet's signature Côtes du Jura motif, as is the bi-directional winding rotor mounted on a high-tech ceramic ball bearing.