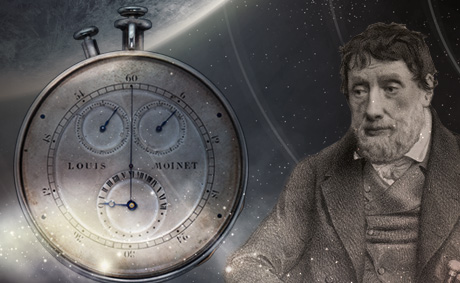 Louis Moinet, reborn after 160 years
Great artists never die.  Even though Louis Moinet left this world on May 21, 1853, his work will always be with us. The recent discovery of the first chronograph ever made brought his name and his work to wider public notice. This highly important horological item had been hidden in a European royal collection for more than 150 years before surfacing at auction to proclaim the genius of its creator.
It's a fair assessment if you consider Louis Moinet's reputation among his contemporaries. According to the vice-president of the Paris chronometry society, Monsieur Delmas, "Louis Moinet is undeniably one of the most capable horologists that has ever appeared in any country."
Louis Moinet wrote in his treatise on watchmaking, Traité d'Horlogerie, that "the true artist should never be behind the times." It's a modest assertion by this accomplished artist, craftsman, and inventor, if you consider that the high frequency of his chronograph was 100 years ahead of its time.
Despite his eminent status in 19th-century watchmaking, Louis Moinet's work has been largely forgotten. The Ateliers Louis Moinet aims to revive the name of this creative genius. Research has brought some of his masterpieces to light and an exhibition space will shortly be opened in Saint-Blaise. The treasures of the past include ornate clocks of great artistry, complicated pocket-watches, a counter and original manuscripts, period documents as well as several editions of his influential Traité d'Horlogerie (1848).
The Ateliers Louis Moinet are at Saint-Blaise in Canton Neuchâtel's watchmaking heartland. This independent company was started by Jean-Marie Schaller 15 years ago with the aim of producing watches according to Louis Moinet's horological approach: technology wrapped in art.
The company's goal is "to restore Louis Moinet to his rightful place in watchmaking's hall of fame." The Ateliers Louis Moinet specialise in limited editions and unique pieces of distinctive design.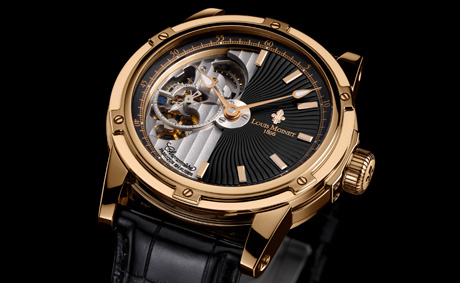 Louis Moinet's new watch at Baselworld 2013 is the Mecanograph, a COSC-certified chronometer. A large opening in the dial artfully frames the escapement, train and balance, beating eight times a second, as a mechanical sculpture. Mecanograph pays tribute to Louis Moinet, a great watch and clockmaker of the 19th century and president of the Paris chronometry society, which strove to promote the science of time measurement as one of humanity's greatest achievements.