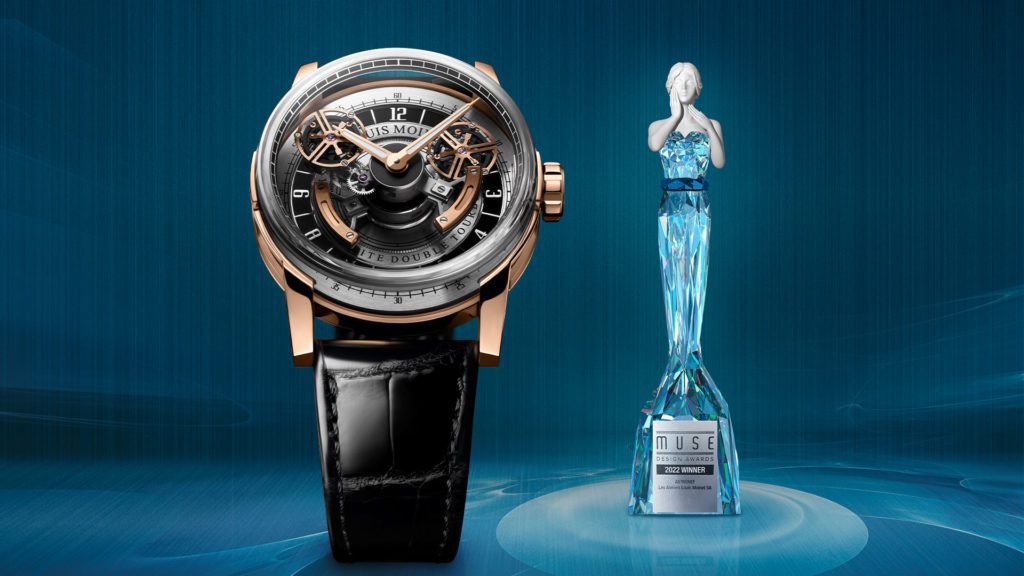 Astronef – Muse Design Award
Louis Moinet's flying satellite double tourbillon, ASTRONEF, has been recognised by the 2022 MUSE Design Awards, winning a Platinum award in the Fashion Design category.
The MUSE Design Awards is a leading international award competition that was created by the International Awards Associate (IAA) in New York in 2015. This competition promotes excellence in various design industries by providing professionals and brands with a platform to compete on the world stage. To date, more than 5,000 entries from 57 different countries have vied to win an award.
ASTRONEF gives life to a captivating animation, which unfolds before the wondering gaze. In all, six distinct elements are in motion: two satellite tourbillons rotating around the dial, as well as their two cages and their two counterweights. The tourbillon cages are geometrically shaped. The weight of a cage is only 0.25 grams, in order to guarantee the correct speed through fine poising. Each cage rotates in 60 seconds and requires perfect poising, which also relies on an 18K gold counterweight weighing 0.4 grams.