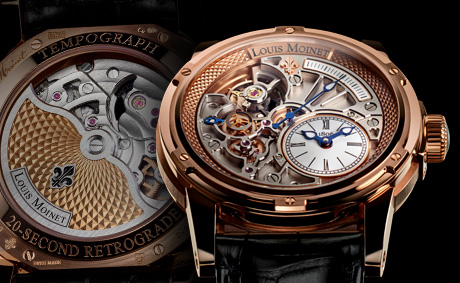 20-Second Tempograph: The new creation from Ateliers Louis Moinet
Technical, architectural, fun, and above all unprecedented: the new Ateliers Louis Moinet 20-Second Tempograph breaks down the barriers between traditional and contemporary watchmaking, and offers a vibrant tribute to the genius of Louis Moinet.
Exclusive retrograde display
The Tempograph's expansive dial showcases a twenty-second retrograde mechanism, developed by Ateliers Louis Moinet in collaboration with Concepto. This is much more than just another three-hand watch. The timepiece features a large central retrograde second hand. With a continuous twenty-second sweep, it brings the dial to life in a unique manner – a direct nod to the automatons from the Enlightenment era of watchmaking, when Louis Moinet himself was creating his finest timepieces and grandest clocks.
There's a second moving display at 9 o'clock: an openwork disc, in subtle shades of white, grey and black, marks out the three twenty-second sequences in each minute.
Last and by no means least, there's an hour dial at four o'clock, featuring the blue-tinted hands with "dewdrop" tips that have become one of the aesthetic hallmarks of Ateliers Louis Moinet. In the purest of watchmaking traditions, Roman numerals and a minute rail adorn an immaculate back encircled with gold, making the Tempograph easy to read.
"We had already created a first series of 10 Second Tempographs: a patented, limited-edition model that is now to be found on the wrist of many collectors. The new collection displays a rather more classical sensitivity, in line with the ethos of traditional watchmaking elegance," says Jean-Marie Schaller, CEO and Creative Director of Ateliers Louis Moinet. "Building on this classical foundation, we've deployed all the contemporary essence of our Ateliers: the open dial revealing the mechanical beauty of the movement; dewdrop hands; a highly technical case – which alone comprises some sixty components; the fleur-de-lis applique at 12 o'clock; and plenty more besides."
Subtleties for connoisseurs
The exclusive features of this model include, first and foremost, the caliber itself. Designed and developed by Ateliers Louis Moinet, it has over 260 parts. It has been made all in one piece, with no additional module to house the complication. The latter has been integrated to ensure better technical coherence for this component. The subtle interaction of the cam and the ruby-tipped rack at 8 o'clock is a unique and particularly spectacular sight.
"Developing the automatic caliber from scratch allowed us to bring all its mechanical beauty to the fore," explains Jean-Marie Schaller. "For instance, we were able to highlight the retrograde cam at 8 o'clock, and give it a minimalist spiral shape. Similarly, the upper bridge is pearled, angled and polished entirely by hand; the plates have alternating sanded and polished finishes to give the dial a greater sense of depth. Meanwhile, the Clou de Paris on the bezel is a completely new finish for our Ateliers. We've also been able to show off a large part of the workings, as well as the balance wheel – positioned closer to the dial than the bottom, and balanced by 18 screws, as our own watchmaking heritage dictates.
On the back, the 20-Second Tempograph sports a movement adorned with a circular Côtes de Genève pattern, featuring diamond-cut chamfers and circular satin-finish gears with a 5N gold-toned finish.
The timepiece boasts a 48-hour power reserve, as well as a rotor mounted on a high-tech ceramic ball bearing. This technical detail delivers a very practical advantage: improved winding compared to the traditional system.
Very limited editions for a very special jubilee
The 43.5mm-diameter (44mm-diameter in 18K gold) 20-Second Tempograph is now on its way to boutiques in the Louis Moinet network. Three series of watches will be produced: the first two in pink gold and white gold – 60 of each at a price of CHF 44,000 each. The third series of 365 watches will be produced in titanium, at a price of CHF 22,000.
About Louis Moinet
Ateliers Louis Moinet was founded in Saint-Blaise, Neuchâtel, in 2004. The fully-independent firm was established to honour the memory of Louis Moinet (1768-1853): master watchmaker, certified inventor of the chronograph (1816), and pioneer in the use of very high frequencies (216,000 vibrations per hour). Louis Moinet was a watchmaker, scholar, painter, sculptor and teacher at the School of Fine Arts – as well as the author of Traité d'Horlogerie, a watchmaking treatise published in 1848 that remained a definitive work of reference for almost a century. Ateliers Louis Moinet is perpetuating this legacy. The firm's watches, produced in limited editions only, have won some of the most coveted awards, including a Red Dot Design Award (Best of the Best category), a prize in the International Chronometry Competition, and a recent UNESCO Award of Merit. Louis Moinet creations often make use of unusual materials, such as fossils and meteorites, in a unique creative approach combined with bespoke fine watchmaking complications. The brand's core values are creativity, exclusivity, art and design.